This is probably my last time in our Tokyo office since I'll be changing roles soon. Most of them are kinda weirded out that I like to take pictures with everyone and everything. Hello. Filipino kaya ako. Camwhore by nature. *LOL*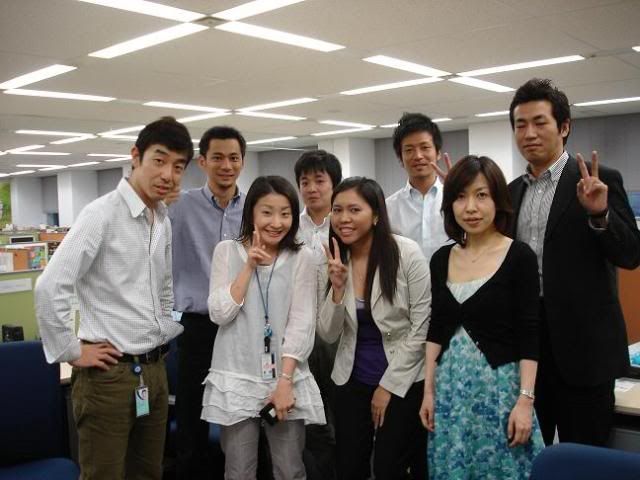 from L-R (Men): Hikasa-san, Murakami-san, Hamada-san, Masuda-san, Shimada-san
from L-R (Women including the tranny): Rie-chan, Tranny, Matsuoka-san

I like Murakami-san. In my last night, he treated us all to dinner at a shabu-shabu restaurant in Aoyama. Sosyal. Then we went to a videoke bar. Free flowing beer courtesy of Hikasa-san! They were shocked when I sang Doushite Kimi... by Tohoshinki. Japanese na Japanese! But I think we enjoyed ourselves more when we sang Sekai... by SMAP with matching choreography! Hmph. Mga closeted na boyband fans! *LOL*

Also, they asked me to name the two ceramic dogs in our pantry:



BIG MISTAKE. *LOL*
I just named them Blackie and Brownie. Hahaha. Buti nga hindi dog#1 and dog#2.