Reposting from my LJ coz I fail big time and trying to test this LJ cut thingy in blogger! :D


Let's begin with a Q&A...


Q: What is Kobe, Japan famous for? *looks around*
A: Kobe beef of course! It's one of the luxurious foods in Japan. Yes, they are fed with beer on a daily basis.

As the assumed tour guide for the Filipinos in JHQ, I was requested to take them to the best Kobe beef restaurant in town. I am not really sure if Mouriya was the best but it was highly recommended by the hotel staff.


Armed with a Japanese pamphlet as well as directions for Mouriya, we went out of Rokko Island to go to Sannomiya.






JR station

Long story short, we got lost. *LOL*
The directions were a bit complicated so I have to make use of my level 1 Japanese to ask around. We were getting hungry but we kept on looking... :D



Our resident photographer must be hungry, judging by how crappy this pic is. *LOL*


We finally found it after almost an hour


We hurried up since they might close and not fulfill our Kobe beef dream. *LOL*


That's me, almost shouting yottsu (4 people)!!! The waitress confirmed by counting our group. This is where I whine that she didn't trust my counting skills... *LOL*

The restaurant has 3 floors due to the small space so we were seated in the 2nd floor. Little did I know that my life will change that night... *cue dramatic music* JOKE! *LOL*



This is our chef, fixing his apron...

I wasn't able to see him clearly since I'm at the far end of the table. But he fits the profile of my crushes: tall and slim. Suffice to say that I'm interested. *LOL*



Close up.... Tadaaaaa....

*Ruby falls down from her chair*
For my JE friends, he looks a little bit like Tackey ne? :D
Thank you, I confiiiiiiirrrrrrrrrrmeed that I'm very much interested.


Ooops, before I forgot, our set menu --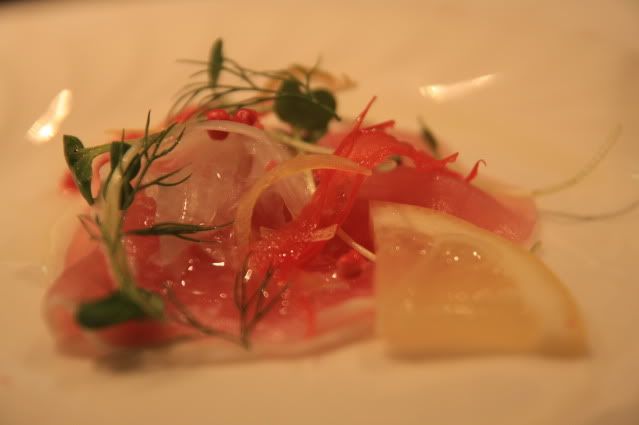 hors d'oeuvres



Soup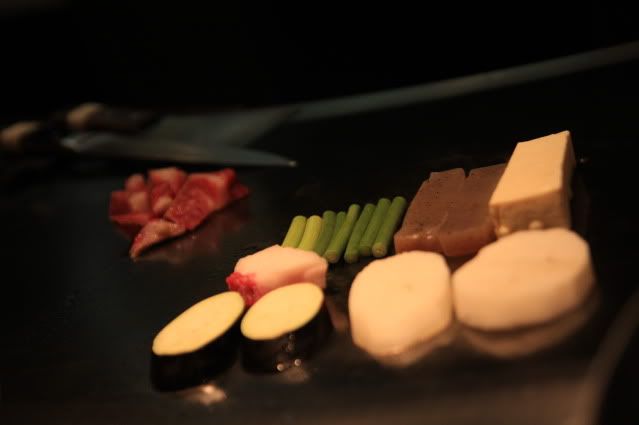 Veggies. Chef is a bit OC with the preparation.



Chef is smiling while cooking the garlic.

He was quiet at the start since he knows we're foreigners. I declared he was mine in Tagalog. He might understand English... *LOL*
Then he asked a simple question in English... "Is the aircon too cordcold for you?"

I replied in Japanese... "Daijoubu desu"

It seemed I found the way to his heart. *LOL* You can see his eyes light up and he asked me if I can speak Nihonggo. I replied just a little (cutely I might add or at least I tried to).


Then he talked... a lot... with me as the interpreter. He asked us where we're from... What we're doing in Kobe... Am I single... (I wish... *LOL*) If you know me, I am not shy when it comes to foreigner crushes, mainly because I know I won't see them again... so GO GO GO with my love struck eyes and charming personality... Bwahahaha...

In turn, he told us that he was half-half - half Japanese (mom) and half-British (dad). He doesn't speak English really well since he lived in Japan all his life. Would you care to go to the Philippines?

My officemates told me that "di pa tayo kumakain busog na busog ka na ah..." (We haven't eaten yet but you're already full...)

Oopppps... I forgot about the Kobe beef. *LOL*

Guess how much this costs?


Rib Steak Kobe Beef

It costs around 15,000 JPY or ~7,500 PHP or ~150 USD. Expensive right?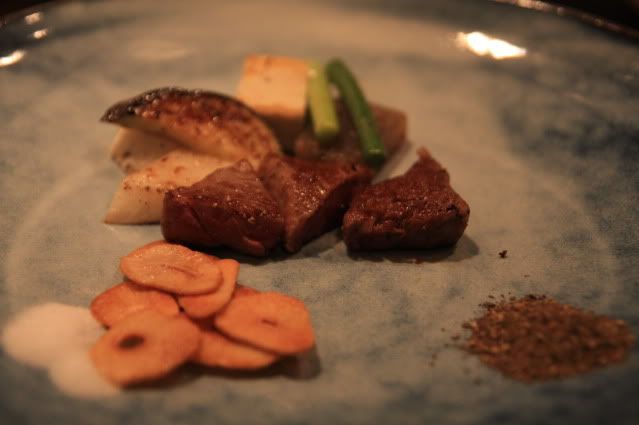 Our main meal

This plate along with the hors d'oeuvres, soup, veggies rice and cola costs a whooping 8,000 JPY or ~4,000 PHP or ~ 80 USD. That raw beef above is divided among the four of us. *LOL*

But in fairness, it was a delicious meal... I know I'm biased because of the chef *LOL* but my other officemates said so as well... Delicious but expensive is the best way to sum it up.

The dinner ended with chef requesting to take a pic with me us as souvenir. He gave me his email address so I could send the pic to him. Yes, we're still corresponding although just a few sentences (with hello, how are you doing being the most common)...



Learnings:
1. Everything is delicious if it's prepared by the one you like.
2. Mahal magmahal... *LOL* It's a Filipino pun meaning it's expensive to love. I will be in a big debt if I eat there everyday just to see chef.
3. Save up so you can go back next time and eat there everyday!