I went out with some of my fandom friends last night to a place close to our hearts! Naks. Hehehe. :D
It's a place called Little Tokyo where you can eat authentic Japanese cuisine. We had our
stomach
mind set on eating okonomiyaki and takoyaki because you rarely get those in Japanese restaurants around the metro.
I like going there during the night coz the ambiance is soo much like old Tokyo.... Hmmm, more like Kyoto I guess due to the cobblestones and Japanese doujos... You rarely get to see those in modern Tokyo. :D
Anyways, we chose Kagura
coz they're the only one who served okonomiyaki
. *LOL* We ordered three dishes -
Okonomiyaki

Modern-yaki (same as Okonomiyaki but with noodles)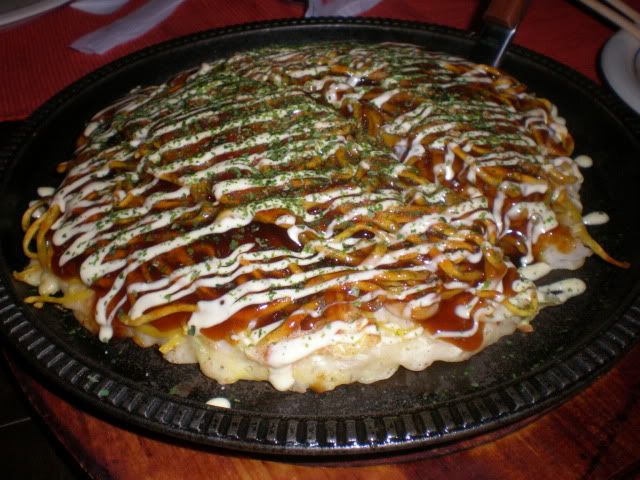 Forgot the name of the dish but it's pork wrapped around by an omelet

They are sooo yummy and filling and delicious!
Haaay. Sarap kumain!
We weren't able to eat the Takoyaki since we were soooo full already. We made a pact to return soon and just order 1 okonomiyaki so we could eat Takoyaki. Takoyaki is best eaten with beer!
Sarap!
We had an enjoyable time discussing fandoms (of course!) but mostly about funny people at work. I think that's the key why we're still friends even after 6 years. We have fandoms as our common ground but we are also interested in each other's personal lives. :D
Little Tokyo is located in Pasong Tamo beside Makati CInema Square. Most restaurants are open around lunchtime and dinnertime only.